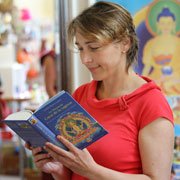 The Foundation Programme (FP) is an inspiring study programme that has been specially designed to develop and enhance our understanding and practical experience of Buddha's teachings through a systematic study of six texts. It is designed for those people who wish to study Buddha's teachings in more depth than is available at General Programme classes. It takes a more structured approach and classes consist of teachings, discussions, chanted prayers and guided meditations.
There are two Foundation Programmes to choose from at the Centre, on Thursday or Sunday evenings. There is also a Foundation Programme course in Stony Stratford. For more information see below.
When you join the Foundation Programme, you agree to come to every class, but you are welcome to come along to a couple of classes first to see if you would like to sign up. For costs, see Membership. For more information please contact the Education Programme Co-ordinator
Sunday FP
Sunday Evening FP
Sundays 5.30 – 7.30pm  
with Kelsang Kunden
This is a very accessible book and a good introduction to the programme.
The Book
The heart of Buddha's teachings is unconditional love and compassion. In this inspiring explanation of the popular Buddhist poem Training the Mind in Seven Points, Geshe Kelsang reveals powerful and far-reaching methods for us to develop these altruistic states. Ancient meditative techniques that have been tried and tested for centuries are brought alive and made relevant to our everyday experiences. Also included is a practical explanation of how we can transform our day-to-day problems – even the most demanding and difficult conditions – into opportunities for personal and spiritual development. By pointing the way to an unchanging freedom and happiness, this immensely readable book challenges us to grow, and will have a remarkable impact on our life.
The Teacher
The programme teacher is Kelsang Kunden, who is on the Teacher Training Programme and has been practising Buddhism for over 15 years.
Evening FP
Thursday Evening FP
Thursdays 6.30 – 8pm & 8.30 – 9.30pm
with Pet Finden
The Book
By revealing the profound meaning of the very heart of Buddha's teachings this book shows how we can attain pure, lasting happiness through developing special wisdom and universal compassion.
This completely new presentation offers truly liberating insights and advice for the contemporary reader. It reveals the profound meaning of the very heart of Buddha's teachings – the Perfection of Wisdom Sutras. The author shows how all our problems and suffering come from our ignorance of the ultimate nature of things, and how we can abandon this ignorance and come to enjoy pure, lasting happiness by developing a special wisdom associated with compassion for all living beings.
The Teacher
The programme teacher is Pet Finden, who is on the Teacher Training Programme and has been practising Buddhism for over 20 years.
Stony Stratford FP
Stony Stratford FP
Tuesdays 7 – 9pm
Venue: 70A High Street, Stony Stratford
with Ivor Sayer and Yvonne Fox
The Book
An in-depth and practical explanation of one of Buddhism's best-loved teachings, Eight Verses of Training the Mind, by the great Tibetan Bodhisattva, Langri Tangpa. Clear methods are simply presented for transforming all life's difficulties into valuable spiritual insights, for improving our relationships, and for bringing greater patience, empathy and compassion into our daily life. For centuries, these methods have brought lasting peace, inspiration and serenity to countless people in the East. Now, with this book, Geshe Kelsang shares the immeasurably rich insight of this ancient wisdom to help us find greater happiness and meaning in our busy, modern lives.
The Teachers
The classes are taught jointly by Ivor Sayer and Yvonne Fox, who are students on the Teacher Training Programme at Nagarjuna Centre.