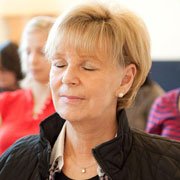 Retreats are an opportunity to take a step back from our daily routines, giving us a chance to refresh ourselves and gain perspective on our lives.
We offer retreats for all different levels of experience; if you are quite new to meditation, we recommend one of our popular relaxation weekends to start you off.
What a wonderful place of peace and tranquility
Thank-you so much for a relaxing and peaceful visit
I arrived tired, I leave stronger both physically and spiritually
If you are looking for a place to hold a personal or group retreat we have 3 beautiful meditation rooms available. We can provide catering and en-suite accommodation in this peaceful & quiet environment. In between retreat sessions you can relax in our beautiful grounds or go for long country walks. Please contact Amanda Day on  01604 686 778 to discuss your needs.