Calm mind = stressing less
Relaxation meditation sessions in workplaces
Stress in the workplace has been described as an epidemic that is gradually increasing.
What can you do?
There is growing evidence that regular meditation practice can help employees become calmer, less stressed, more productive and creative.
How we can help
We are now able to offer simple and highly effective meditation techniques that have proven to be effective for thousands of years.  We use ancient Buddhist methods which have been adapted to fit with modern life.  By using meditation many generations of people have reduced and eliminated their stressful feelings.  Employees don't need to become a Buddhist to benefit from these methods, anyone can use them in their everyday life.
The Benefits
Medical research has identified key benefits of meditation for the workplace:
Reduced employee stress, absenteeism and employee turnover
Improved productivity and team morale
Increase in employee focus and clearer thinking
Increased employee satisfaction and creativity
Improving colleague and family relationships
Increases positive thinking
Promotes general wellbeing and better work/life balance.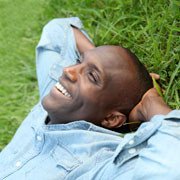 Our Services
The benefits of meditation are best understood from personal experience, therefore we suggest booking a one hour preliminary session that introduces your organisation and employees to meditation practice and its benefits for work and life.
If you receive positive feedback from this introductory session, we can then provide further courses or workshops at a reasonable price.
All meditation sessions and workshops are led by our experienced meditation teachers from Nagarjuna Kadampa Meditation Centre based in Northamptonshire. Our teachers also combine a wealth of workplace and senior management experience enabling them to relate to the specific needs of the workplace environment.
The meditations we teach are suitable for everyone and there is no requirement for previous meditation experience or interest in Buddhism.
Call us today arrange your trial session
To arrange an introductory session please call on 01604 743 976 or 07717412775 or email epcnagarjuna@hotmail.co.uk
Research and evidence
In 2010/11, the Health and Safety executive (HSE,2010/11) conservatively estimated the cost of stress, depression and anxiety at £3.6 billion. In 2014 the cost of work-related stress to the economy reached a massive £6.5 billion demonstrating how prevalent an issue stress in the workplace has become in the UK.  An estimated 10.4 million days are lost to stress-related illness.  In addition, presenteeism is also on the rise, meaning employees coming to work disengaged, tired, unmotivated and too stressed to work.