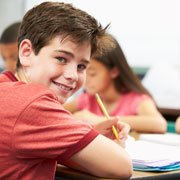 All year round many local schools, universities, community groups and others visit the peaceful setting of Nagarjuna Centre for guided tours of our three beautiful meditation & shrine rooms (with Buddhist statues and art), or talks on meditation and the Buddhist way of life, or just to enjoy our beautiful grounds, café & shop. The centre is open to everyone and we are always happy to arrange visits and tours of the centre. Our teachers are familiar with the key stages of the religious education agreed syllabus.
The lady from the Buddhist Centre put flowers, Buddhas and fruit on a shrine. Buddha says we should meditate which means we close our eyes and get rid of all the nasty things in our head. I liked learning about Buddha.
Thank-you on behalf of the staff and students for coming into school over the last few weeks to deliver such enriching and engaging workshops. Hope you will be able to come back next year!
I learned to respect my teachers and not to harm any animals. Jenny and Pet told us to think about an ideal world. Also we learnt about Buddhism by meditating. The best bit was the meditation.
Visiting Us
A typical visit would last about 1.5 hours and would include a brief tour of the centre to get a feel for life in a working Buddhist College and community. This is followed by a talk and meditation in our meditation room. It is an inspiring and calming environment. We can include a question and answer session & simple breathing meditation. We can explain some of the symbolism or anything else you would like to cover.
Visiting hours are from 11am to 4pm Monday to Friday. If you have special requirements outside of these times please call us and we will try to fit in with your needs. After your session with our teacher, you could stay longer at the Centre to relax in the grounds and visit the shop & café.
Booking
To book your visit please email or call our community relations team on  01604 743 976
Charges
Please pay reception in the main office when you arrive. Cheques should be made payable to 'Nagarjuna Buddhist Centre'.
Charges per person for visits to the centre are as follows:
Pre school – £2.50
Primary school – £2.50
Secondary school – £3
Special school – £2.50
University – £4
Adults – £4
*Note – For school & university visits there is no charge for your teachers and assistants.