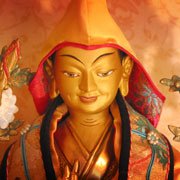 Chanted meditations or prayers, known as 'pujas,' are special methods for purifying negativity, accumulating merit and receiving blessings. They help us to develop and maintain a positive mind and are a powerful preparation for meditation. Our main practice is Wishfulfilling Jewel, which includes time for silent meditation. The community comes together for these prayers every day from 5 – 6pm, and you are welcome to join us.
Everyone is welcome to attend all the pujas apart from Highest Yoga Tantra pujas, which are for HYT practitioners only. There is no need to book, and no fee.
Weekly Puja Schedule
Descriptions of individual pujas are presented below this schedule.
Pujas
Days
Time
Wishfullfilling Jewel
Every day
7 – 8pm (except Mondays, 5 – 6pm)
Wishfullfilling Jewel with tsog
Thursdays
7 – 8pm
Quick Path (HYT only)
Powa Ceremony
First Tuesday of the Month
Varies
Precepts
15th of the Month
7am
Tara
8th of the Month
Varies
Melodious Drum
29th of the Month
Varies
Feast of Great Bliss (HYT Only)
25th of each Month
Varies
Offering to Spiritual Guide
10th & 25th of the Month
Varies
Please note: times may change when other events take place. Please contact the centre before attending.
Wishfulfilling Jewel
A Guru yoga practice combined with meditation on the stages of the path to enlightenment (Lamrim), and prayers to the Dharma Protector. Wishfulfilling Jewel pujas on Thursdays include a tsog, or food, offering: feel free to bring offerings if you wish.
Powa Ceremony
We do these short prayers regularly on behalf of those who have recently died. Powa means 'transference of consciousness', and is a special method to help the deceased, both humans and animals, take rebirth in a Buddha's Pure Land, a place free from suffering.
Vajrayogini Practice: Dakini Yoga & Quick Path
A Highest Yoga Tantra practice of Vajrayogini open only to those who have received the appropriate empowerment.
Offering to the Spiritual Guide
A special Guru yoga of Je Tsongkhapa that is related to Highest Yoga Tantra, and forms a preliminary practice for Vajrayana Mahamudra.
Feast of Great Bliss
A special Tantric ceremony for people who have received the Highest Yoga Tantra empowerment of Vajrayogini and completed a close retreat.
Melodious Drum
A ceremony for fulfilling and restoring the commitments of the Dharma Protector, open to all.