The Foundation Programme (FP) is an inspiring study programme that has been specially designed to develop and enhance our understanding and practical experience of Buddha's teachings through a systematic study of six texts. It is designed for those people who wish to study Buddha's teachings in more depth than is available at General Programme classes. It takes a more structured approach and classes consist of teachings, discussions, chanted prayers and guided meditations.
There are two Foundation Programmes to choose from at the Centre, on Thursday or Sunday evenings. There is also a Foundation Programme course in Stony Stratford. For more information see below.
When you join the Foundation Programme, you agree to come to every class, but you are welcome to come along to a couple of classes first to see if you would like to sign up. For costs, see Membership. For more information please contact the Education Programme Co-ordinator.
Sunday FP
Sunday Evening FP
Sundays 5.30 – 7.30pm  
with Kelsang Kunden
Starting on 17th November 2019
For class dates, see the calendar
The Book

This book offers us deep insight into our mind, and shows how an understanding of its nature and functions can be used practically in every day experience to improve our lives.
Part 1 is a practical guide to developing and maintaining a light, positive mind – showing how to recognize and abandon states of mind that arms us, and to replace them with peaceful and beneficial ones.
Part 2 describes different types of mind in detail, revealing the depth and profundity of the Buddhist understanding of the mind. It concludes with a detailed explanation of meditation, showing how by controlling and transforming our mind we can attain a lasting state of joy, independent of external conditions.
The Teacher
The programme teacher is Kelsang Kunden, who is on the Teacher Training Programme and has been practising Buddhism for over 20 years.
Evening FP
Thursday Evening FP
Thursdays 7 – 9pm
with Pet Finden
For class dates, see the calendar
The Book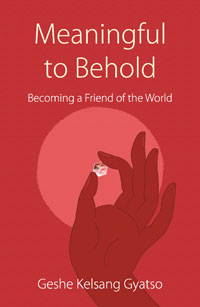 Many people have the compassionate wish to benefit others, but few understand how to accomplish this successfully in daily life. Bodhisattvas are friends of the world, who have such strong compassion that they are able to transform all their daily activities into ways of benefiting others. The path of the Bodhisattva was exquisitely explained in the universally loved poem Guide to the Bodhisattva's Way of Life by the 8th century master Shantideva. With this commentary, the full effectiveness and profundity of this wonderful poem are revealed in full and made applicable for our time. This practical handbook is essential for those wishing to follow a way of life characterised by greater empathy and compassion for others.
This highly acclaimed work is based on the great Indian Buddhist Master Shantideva's famous spiritual poem Guide to the Bodhisattva's Way of Life, one of the best loved and most important Mahayana Buddhist texts, which reveals with poetic beauty and deep spiritual insight how to enter, make progress on, and complete the Buddhist path to enlightenment.
Shortly after he arrived at Manjushri Kadampa Meditation Centre in 1977, at the request of his root Spiritual Guide, Vajradhara Trijang Rinpoche, Venerable Geshe Kelsang Gyatso Rinpoche gave a detailed verse-by-verse commentary to Shantideva's Guide. Teaching twice a day for over three months, Venerable Geshe-la revealed the full effectiveness and profundity of the Guide, and showed in a practical and inspiring way how in the midst of modern busy daily life we can follow the path of a Bodhisattva – someone who out of compassion dedicates his or her life to attaining enlightenment.
It is these early teachings that became Meaningful to Behold, the first of Venerable Geshe-la's many books to be published
The Teacher
The programme teacher is Pet Finden, who is on the Teacher Training Programme and has been practising Buddhism for over 20 years.
Stony Stratford FP
Stony Stratford FP
Tuesdays 7 – 9pm
Venue: 70A High Street, Stony Stratford
with Ivor Sayer and Yvonne Fox
The Book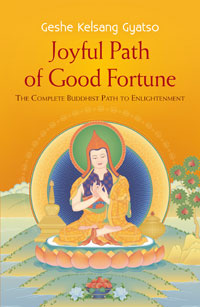 A clear and comprehensive explanation of the entire path to enlightenment. We all have the potential for self-transformation, and a limitless capacity for the growth of good qualities, but to fulfil this potential we need to know what to do along every stage of our spiritual journey. With this book, Geshe Kelsang offers us step-by-step guidance on the meditation practices that will lead us to lasting inner peace and happiness. With extraordinary clarity, he presents all Buddha's teachings in the order in which they are to be practised, enriching his explanation with stories and illuminating analogies. This is a perfect guidebook to the Buddhist path.
The Teachers
The classes are taught jointly by Ivor Sayer and Yvonne Fox, who are students on the Teacher Training Programme at Nagarjuna Centre.